A FAMILY TRADITION
Located at the corner of Gilbert Rd. and Steveston Hwy, Richmond

Covid!  We will be in business.  We will adhere to safe protocols….social distancing and masks.  We do not know yet if the fire pit will be allowed.  Sorry, no apple cider this year.
2020!  Welcome Back.  Please read below for our hours of operation for 2020.  We are now in our fourth year of operation.    We still have the fire pit, hot cider, and christmas carols playing.   The retail lot located at the corner of Steveston Hwy and Gilbert road will open on Friday, November 20, 2020 and remain open until December 23rd.  The hours are 11 am -9 pm on weekdays and 9 am – 9 pm on Saturday and Sunday.  HOWEVER, OUR CLOSING TIME WILL BE 6PM THROUGH NOVEMBER 26th,  2020. 
The U-cut lot, located west of the retail lot at 6640 Steveston Hwy, will open on Saturday, November 28, 2020 and will remain open on the weekends until December 13th.    IT WILL BE OPEN WEEKENDS ONLY.  HOURS 9 AM -4:30 PM ON SATURDAY AND SUNDAY.   However,  if on Monday – Friday  you need a U-cut tree, please come to the retail lot on the corner of Gilbert and Steveston Hwy.  and we will set you up.
  Merry Christmas!
Santa's Walk


Santa's walk is a decorated area of Christmas trees and Christmas scenes.  Here you may take memorable family photos, have a warm apple cider, or warm yourselves by the fire, weather permitting, starting  November 28th.
RETAIL PRE-CUT CHRISTMAS TREES


You will find a tree lot which is easy to navigate, with prices clearly displayed on each and every tree.    We will do our very best to provide you with the simplest tree buying experience.
After selecting your tree, we will provide a fresh cut on the bottom, to help your tree last longer. 
U-CUT CHRISTMAS TREE FARM

Do it the "Old Fashioned" way.  We have a large selection of Douglas Fir trees to choose from.
MOVIE/TV PRODUCTS AND LARGE TREES


We have a large selection of Big Trees with over 50 acres of trees, greenery and boughs.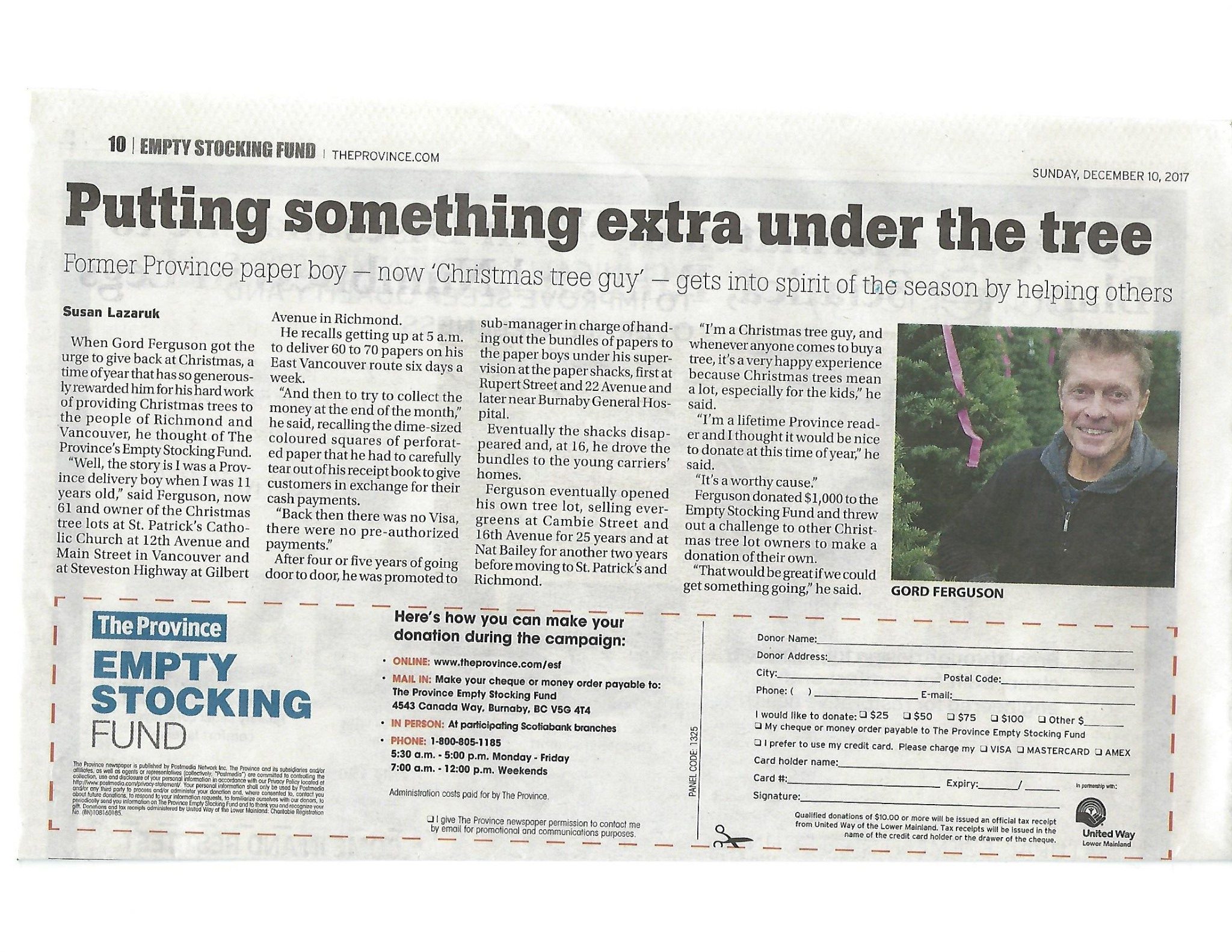 also Discover